GARRETT AT Max International Pack
Garrett AT MAX is our most versatile and advanced all-terrain VLF metal detector. With increased detection depth, built-in Z-Lynk Wireless Technology, and many other improvements, AT MAX helps treasure hunters push their limits to the MAX!
Secure payment : Paypal, Swissbilling, Twint or bank transfer .
Fast delivery in Switzerland
and throughout Europe
Product return within 14 days
Garrett AT MAX metal detector



Waterproof up to 3 meters underwater - now with Pro-Pointer AT Z-Lynk and  Wireless MS-3 headphones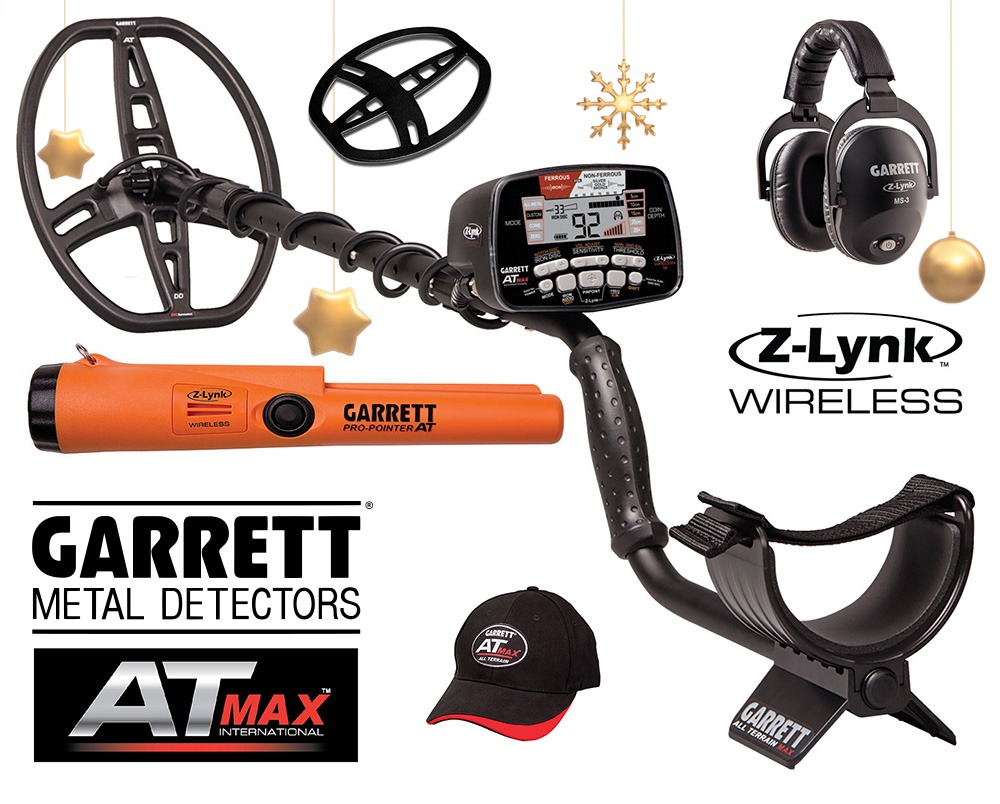 The Garrett company has launched a new flagship: the Garrett AT MAX.
MAX stands for maximum performance and maximum search fun, because this device is the first in this series to be equipped with wireless headphones. The Garrett AT MAX is as easy to use as the Garrett AT Pro, but offers a lot more features. So you can actually say that the AT MAX is the adult AT Pro.
The Garrett AT MAX is particularly suitable for searching for coins, jewelry and relics, but also for searching for water.
The AT Max is an all terrain detector - no matter if forest, meadow, beach or in water, this detector has its maximum performance everywhere. Like its little brother, the AT MAX is waterproof up to 3 meters, so it can also be used to search the shallow water area of ​​a swimming lake.
The Z-Lynk ™ wireless technology
The Z-Lynk wireless technology offers sound transmission with hardly any delay (maximum delay of 17 ms). This technology is 6 times faster than Bluetooth headphones and 4 times faster than other wireless headphones. No cables and no interference with other wireless headphones.
Garrett MS-3 ™
These headphones are equipped with the excellent Z-Lynk ™ wireless technology. For an optimal signal experience with hi-fi audio.
Bonus: Garrett Pro-Pointer AT Z-Lynk
The pinpointer is equipped with a Z-Lynk pairing system, and can work together with a Z-Lynk system! In this way you can transmit the detected signal to Z-LYNK headphones and Z-LYNK receiver (AT MAX) and hear the Pro Pointer signal and the detector signal at the same time.
MAXimum depth performance
Due to increased transmission power and improved electronics, the AT Max offers a significantly stronger depth performance compared to the AT Pro and many other detectors. 
True all-metal mode
The true all-metal mode actually shows all metals. This mode offers the greatest possible performance, both in depth and in small parts.
Background
lighting Even in twilight or in bad weather, the AT Max has a simple but important advantage compared to other detectors: its display can be illuminated. So you can pursue your hobby even in complete darkness.
Improved frequency
The AT MAX operates at a frequency of 13.6 kHz, which enables excellent searches for a large number of objects such as jewelry, coins, gold, silver, brass and much more.
Optimized ground compensation
An automatically and manually adjustable ground compensation ensures better performance when searching. It offers 175 points of resolution for ground reconciliation. This means that beaches, which are known for their salinity, and highly mineralized soils are no problem for the AT MAX.
Larger display digits
The AT MAX offers its operator greater convenience thanks to larger conductance digits compared to the AT Pro. 
Family is family - for this reason, the search coils of the siblings from the AT family can still be used.
Improved grip
The Garrett AT Max sets new standards in comfort. The grip has also been improved here compared to the AT Pro.
It is now designed to be non-slip. So you have everything under control!
Volume control
The Garrett AT MAX metal detector has a volume control. In the previous model, the Garrett AT Pro, the volume could not be adjusted, but this is now possible with the AT MAX. So you don't have to draw attention to yourself with the signals.
Search modes
The AT MAX has 4 different search modes. The true all metal search mode shows all metals without discrimination. The user search mode can be customized by the user. Certain conductance ranges can be masked out and this pattern is then saved. In general, conductance ranges can be hidden in all search modes; the pattern is only saved in user mode. In coin mode, the settings are saved in advance to make it easier to track down coins. The zero mode has no discrimination. This mode is popular with militaria seekers who want to find all metals.
TECHNICAL SPECIFICATIONS
Search frequency

13.6 kHz

technology

VLF (Very Low Frequency)

Type metal detector

Digital

service

Pushbuttons

Number of search modes

4 search modes:




-All Metal




-Custom (Can be programmed by the operator and will keep changes when the detector is turned off)




-Coins -Zero (




Detects any type of metal)

Search coil

21 x 28cm (8.5 "x 11") Performance DD search coil

Weight metal detector

1.4kg

Adjustable rod length

Yes, adjustable from 109-140 cm

Adjustability and shape of the linkage

Well. 

3-part 

Control unit (electronics) watertight

Yes, up to 3 meters

Headphone jack

Yes, a 2-pin connector for Garrett's waterproof headphones

Built-in wireless module

Yes, the Z-Lynk wireless technology, 6 times faster than Bluetooth headphones and no interference with other wireless headphones.

target group

Advanced, all-terrain seekers

Type and number of batteries

4 x AA batteries

Battery life

+/- 25 hours

Readable battery level indicator

Yes, in 4 segments

Readable depth range

yes, in 5 segments (5cm, 10cm, 15cm, 20cm, 25+) 

Soil mineralization can be read on the display

No

Ground balance

Automatically and manually

Sensitivity (sensitivity adjustment)

Yes, adjustable in 8 levels

Pinpoint function

Yes 

Discrimination of unwanted objects

Yes 

Notch filter

Yes 

Notch volume

No 

Object identification through audio tones (metal type recognition)

Yes (3 different tones)

Object identification readable on the display (metal type recognition)

Yes, Ferrous / Non Ferrous (Iron / Non Iron)

Conductance display (metal type detection) 

Yes, 1 to 99

Recovery speed (reaction time)

Very fast

Volume control

Yes, 8 levels 

Display lighting

Yes, on and off 

Backlight push button

No 

Search coil lighting

No 

Vibration as a metal detector signal

No

Online software update

No

Frequency changer

Yes, 4 levels

Threshold (background tone)

Yes, adjustable from -9 to 23

Operating software in different languages

No

Depth range of small objects (1 euro)

maximum 35-40 cm

Maximum depth range large objects

Maximum 150 cm

Suitable for use on the coast

Waterproof up to 3 m, coil and electronic unit

Suitable for wading (completely underwater)

Yes

Suitable for diving

Yes, up to a maximum of 3 m

Suitable for mineralized soils

Yeah, works fine

Suitable for wet salty soils (by the sea)

Yes, with the right settings 

Suitable for finding gold nuggets (Africa, Australia)

No

Other additional functions
 
Improvements compared to the AT Pro at a glance
improved search performance, especially when searching for beaches or salt water!

increased processor performance and the resulting increased sensitivity to small parts

large conductance ID display

adjustable volume on the detector for both headphones and speakers

4-MODES: ALL METAL (without filter!) - CUSTOM (user) - COINS (coins) - ZERO (0 masking)




each MODE is individually adjustable with masking of unwanted metals + adjustment of the




working frequency 4 possibilities of setting, so that common searches undisturbed from interference can work

clean functionality even with salt water and heavily mineralized soils

non-slip handle

Built-in Z-Lynk module
scope of delivery
Garrett AT MAX metal detector

21 x 28cm (8.5 "x 11") Performance DD search coil

Coil protection

Garrett AT MAX cap

MS-3 Z-Lynk wireless headphones

Garrett Pro-pointer AT Z-Lynk 

4 AA batteries

Operating instructions

2 year warranty
Reviews about this product
Show attestation
Je n'ai pas encore testé...juste aspect qualité
No customer reviews for the moment.
Customers who bought this product also bought: