GARRETT ACE 300 I
Highly Recommended - Coin Hunting, Competition Events, Dry Beach/Fresh Water Hunting 

Recommended - Jewelry Hunting, Relic Hunting, Ghost Town Hunting, Prospecting
NOTRE MEILLEUR VENTE !!!    
Secure payment : Paypal, Swissbilling, Twint or bank transfer .
Fast delivery in Switzerland
and throughout Europe
Product return within 14 days
Garrett Ace 300i metal detector

The new Ace 300i metal detector incorporates the latest Garrett technology, which was launched in 2016. This device is ideal for finding coins, relics, treasures and jewelry. This device has improved iron discrimination, manual soil search, graphic object analysis, one-touch, iron tones, pinpointing and more precise object identification with numbers.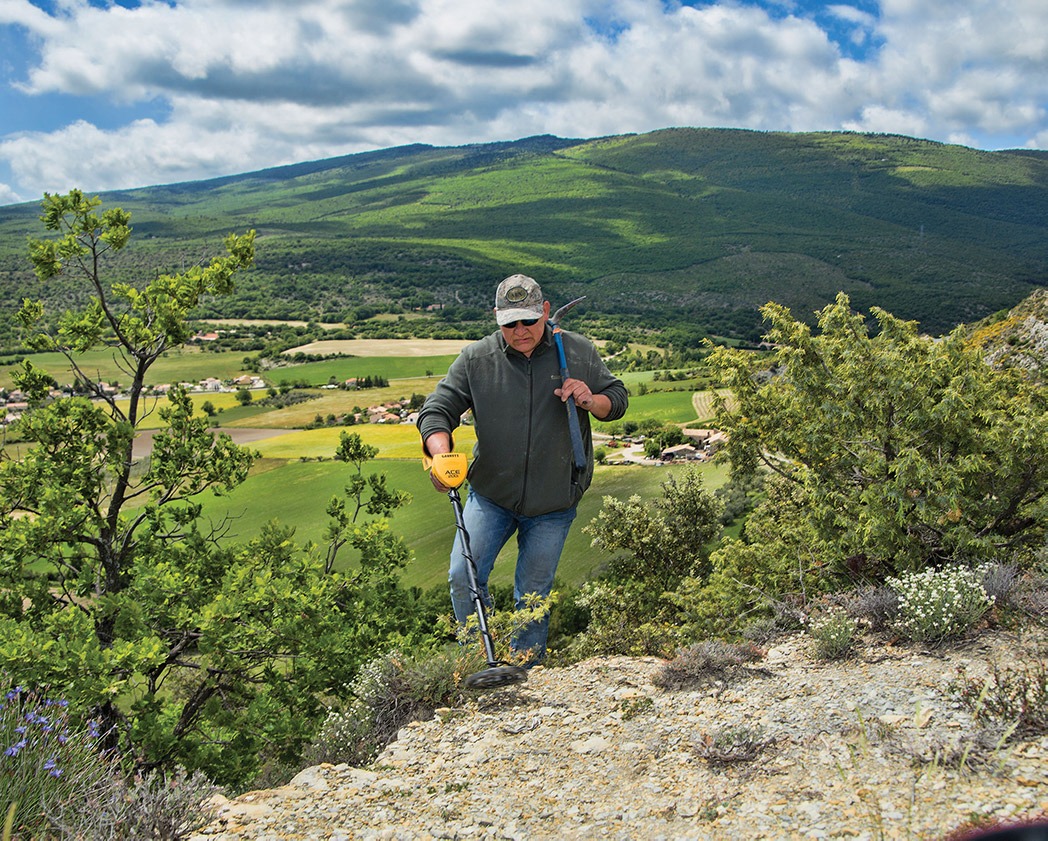 The value for money of the Garrett Ace is very good. 
For example, this Garrett Ace 300i digital metal detector has an 8 Khz search frequency and five search modes for jewelry, coins, relics or all metals. 
You also have the option to create your own search. 
The object identification (metal type recognition) can be easily read on the display and also a depth display in cm. 
Unwanted iron objects like nails can easily be excluded from your search process. 
The Ace 300i has an extra strong camlock handle for very stable and comfortable search movements.
The Ace 300i with its 8 KHZ has a higher search frequency than the earlier Ace models (6.5 KHZ-Ace 150, Ace 250, Euro Ace and Ace 200i) The advantage of this 8 KHZ higher search frequency is the improved sensitivity to low and medium conductive Objects (gold, lead, etc.)
Numerical object identification (1-99)
The Ace 300i metal detector has both segment identification and numerical object identification (1-99). 
As soon as the metal detector detects an object, a tone is heard and a number appears in the center of the display. 
Each number represents a type of metal. (For example, No. 76 euro coin, number 20 iron) For example, you can learn to identify (recognize) objects. 
To make it even easier, a block appears under the segment bar at the top of the display at the same time. 
You can read about the type of metal what the object can be. 
(e.g. iron). 
In addition, the Ace 300i has 3 different audio tones. 
A low tone for iron, a medium tone for gold and other objects, and a high tone for silver.
Discrimination
You can adjust the sensitivity (depth) yourself, as well as the discrimination. 
The Eiser discrimination of the Ace 300i is very precise and improved.
Pinpoint location
The Garrett Ace 300i has a pinpoint function as an extra. 
This is a tool for the exact location of objects. 
This allows you to find the position of the object more precisely and so you have less work to dig up the object.
Notch
The notch function enables you to discriminate very precisely. 
You can now even discriminate against certain ID sigments.
To prevent interference with other metal detectors and electronics, the Ace 300i offers a frequency switch. 
If your detector is interfered with by other detectors, you can easily change the frequency.
Waterproof search coil
The Ace 300i has a waterproof search coil, only the display is not waterproof. 
So you can use the detector in shallow water as long as the display doesn't get wet. 
Even when it rains, you have to protect your display with electronic protection.
Reaction speed
This metal detector is characterized above all by its depth range and its fast reaction speed. 
The latter is especially important when several objects are right next to each other. 
Most metal detectors only give you a signal. 
You will notice with the Ace 300i that it lets you hear and see that there are multiple objects.
Good depth performance
With the powerful elliptical and waterproof 17 x 25 cm (7 x 10 inch) search coil you can achieve a good depth range. 
Up to 30 cm for objects the size of a coin, and up to 1 m for large objects.
TECHNICAL SPECIFICATIONS
Search frequency

8 kHz

technology

VLF (Very Low Frequency)

Type metal detector

Digital

service

Pushbuttons

Number of search modes

5 search modes:




-All Metal




-Jewelry Jewelry




-Relics (relics)




-Coins (coins)




-Custom (self-adjustable mode)

Search coil

17 x 25 cm (7 x 10 inch) PROformance concentric waterproof search probe

Weight metal detector

1.2kg

Adjustable rod length

Yes, adjustable from 106 - 129 cm

Adjustability and shape of the linkage

Simple, with a round rod

Control unit (electronics) watertight

No

Headphone jack

yes, 6.3mm jack connection

Built-in wireless module

No

target group

Beginners, adults and children

Type and number of batteries

4 x AA batteries

Battery life

20-25 hours

Readable battery level indicator

Yes, in 4 segments

Readable depth range

Yes, in 4 segments (2 "/ 5cm, 4" 10cm, 6 "/ 15cm 8" + / 20cm +) 

Soil mineralization can be read on the display

No

Ground balance

Automatically

Sensitivity (sensitivity adjustment)

Yes, adjustable in 8 levels

Pinpoint function

Yes

Discrimination of unwanted objects

Yes

Notch filter

Yes

Notch volume

No 

Object identification through audio tones (metal type recognition)

Yes (3 different tones)

Object identification readable on the display (metal type recognition)

Yes, 12 LCD segments indicate the different types of metal

Conductance display (metal type detection) 

Yes, 1-99

Recovery speed (reaction time)

Well

Volume control

Only through headphones

Display lighting

No

Backlight push button

No 

Search coil lighting

No 

Vibration as a metal detector signal

No

Online software update

No

Frequency changer

Yes, F1, F2, F3, and F4

Threshold (background tone)

No

Operating software in different languages

No, only in English

Depth range of small objects (1 euro)

maximum 30 cm

Maximum depth range large objects

Maximum 100 cm

Suitable for use on the coast

Yes

Suitable for wading (completely underwater)

No, only the search coil is waterproof

Suitable for diving

No

Suitable for mineralized soils

No

Suitable for wet salty soils (by the sea)

No 

Suitable for finding gold nuggets (Africa, Australia)

No

Other additional functions

- Immediate search after switching on (without programming)
- Stable Cam-Lock linkage as with Garrett AT Pro for the best stability
-Memory memory for self-selected discrimination
Included:
Ace 300i metal detector

17 x 25 cm (7 x 10 inch) PROformance concentric waterproof search probe

Clear sound headphones with volume control

Spool protection 17 x 25 cm

Cover hood for the electronics housing

4 AA batteries

Instructions in German, Dutch, English, Spanish and French

2 year warranty
No customer reviews for the moment.
Customers who bought this product also bought: